Tumblr: https://dcmarvelorder.tumblr.com/post/163354183134/1942
This is the original Wildcat. Are you as tired as I am with those words, first and original? I mean obviously there are I haven't mention a previous version have I? Anyway Ted Grant was a boxer, a good one to, and at the beginning of his story he is framed for a murder. He dresses up as the Wildcat to clear his name, but keeps donning the costume because he likes helping people.
These handsome lads are the newsboy legion. Led by Tommy (the one over Guardian's right shoulder) the other members are Big Words, (in the glasses) Scrapper, (with the hat) and Gabby (in front of Tommy). Guardian is not a official member, but as the man who always gets them out of scrapes he gets the honorary title. Jim Harper the Patrolman of Suicide Squad where the boys live is the Guardian. The boys are newsies in the area, and are good friends. Jim picks up the shield in order to protect the boys who he is the legal guardian of. They suspect that Jim and the Guardian are one and the same but are unable to prove it.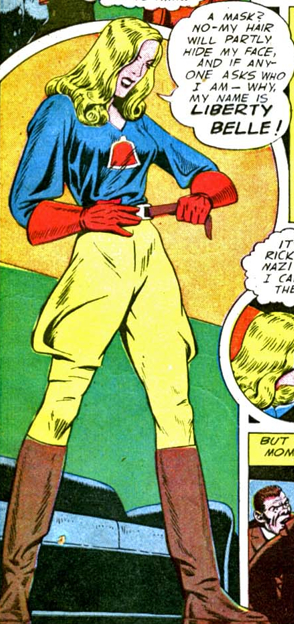 This is Libby Lawrence the war-time radio hostess. She travels around the world reporting on what she sees, and when there is trouble she switches identities into the wonderful Liberty Belle. Having no powers, but immense skill Libby is able to conquer any foe. she is alerted to the need of her help by a tiny bell she was given which is a copy of the larger Liberty Bell. When the older version is touched, the little one rings.
Terry Sloane is perfect. Like literally that's his gig, he's perfect at everything he tries and has more skills than you can spit at. He is also Mister Terrific. He has no powers, unless you count being great at everything and is also rich. Bit of a Batman knockoff really.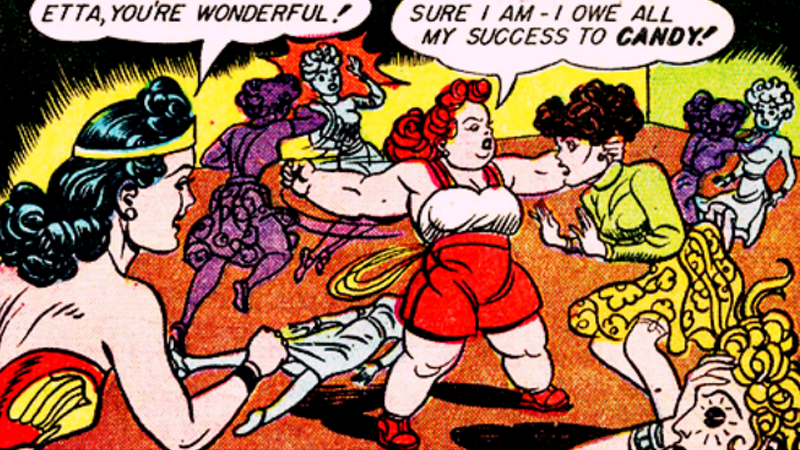 This is Etta Candy she's short, fat, Texan, and an amazing character. She is the best friend of Wonder Woman and constantly goes on adventures with her. She's brave and clever, loyal to the core and cute as a button. Really not pleased that they slim her down in later versions. I can't wait to see her each month- she's a real firecracker.
Robotman was the scientist Robert Crane until a few unnamed criminals broke in to steal Bob and his friend's chemicals and Robert was shot. In a desperate attempt to save his life Bob's friend transferred his brain into a robot. The world now believes Bob is dead and when he puts on a plastic disguise that makes him look human he goes by Paul Dennis. We no longer see his friend but for a while they were living together.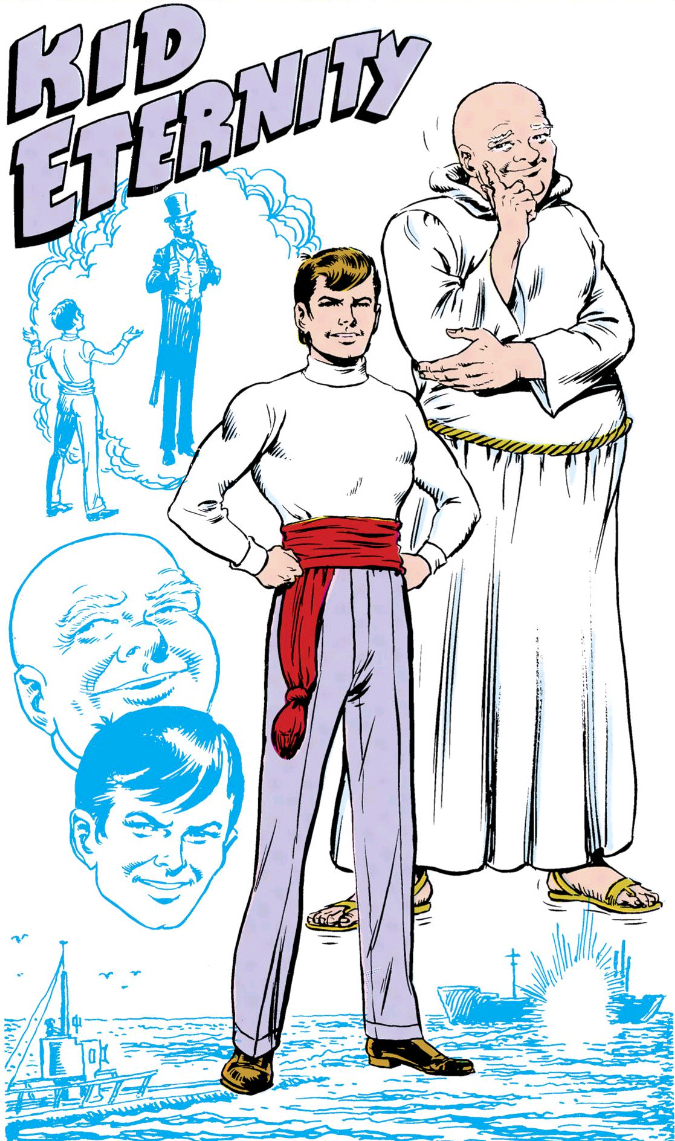 Chris Freeman (Earth-S) died before his time and when the Gatekeeper figured it out he was given  the task of looking after the kid, and gave him the power of Eternity. With the cry of a word he could turn into a ghost, or a human, or could summon a person of history or fiction into being. I am so jealous of this power and want it.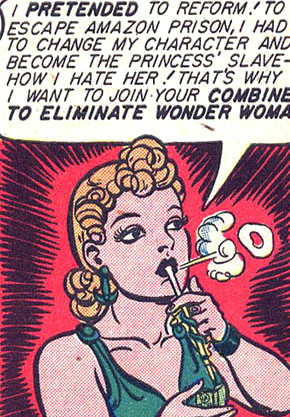 Paula von Gunther was one of the first Wonder Woman villains, if not the first. She worked with the Nazis, but it was later discovered that she was only bad because her daughter was being held captive. After Wonder Woman saved the child both moved to Paradise Island and received Amazon Training. Paula now has a lab in the states and helps Wonder Woman with her inventions. (I ship it)
A D.A. in his civilian identity of Larry Jordan, Larry fights crime as Airwave, master of the radio. He can tune in on any metal and hear what is going on around it, and send his voice thru any metal and gets places by rollerblading on telephone wires.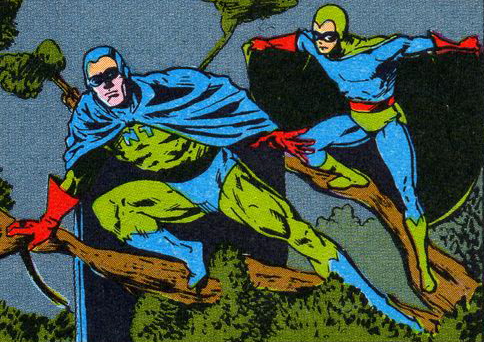 TnT and Dan the Dynamite are Tex Thompson and his student Dan Dunbar. Together they have an explosive power. When they touch their rings together they transform into their superforms.
Mary Batson is Billy Batson's long lost twin sister. Because of her connection to Billy she too has Shazam powers, though they are slightly different from her brother. She lives with her adoptive mother and fights crime.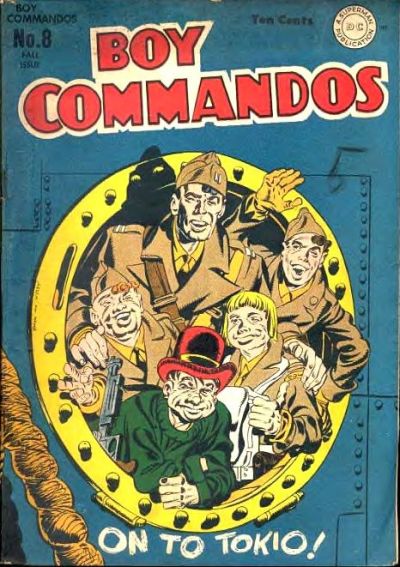 The man in the middle is Rip Carter, the captain of the boy commandos. The red head is Alfie and the brunet Andre. Jan is the blonde and the one in the hat is Brooklyn. They are a group of kids who fought in highly dangerous situations in WWII. I stopped reading after the war was over and Alfie, Andre and Jan left, and were replaced by some other Americans and no longer fought Nazis.
These are the Three Dimwits, originally villains of the Flash then allies. Winky Moyland, Noddy Toyland, and Blinky Boylan are insanely dumb, but stumble upon fantastic inventions and strange being getting into  horrid scrapes, which Jay always got them out of.
Dan Richards is a rookie cop, and not very well respected on the force- but his friends Manhunter and Thor are. Of course Manhunter is Dan, not that they know that. He has no powers, but immense skill. I just think its funny that he's doing his route and then he strips his shirt and Thor jumps out. Like dude, does your dog just follow all day waiting for you to change clothes? And since he has these skill, why doesn't he just fight crime as a cop?
This is the Duke of Deception, a major villain of Wonder Woman. He works for Mars, god of war, and since he's able to change shape he can cause a lot of trouble for the princess.
This is Woozy Winks, the man protected by nature. He is also a close friend of Plastic Man, but mostly used as comedic relief. In case you don't know me in real life I should tell you I'm not a big fan of the humor genre, and Woozy kind pisses me off because he's such a wolf, but I like the fact that even when scared he sticks by Plas. As a Hufflepuff loyalty is important to me, but other than that I don't really like this character.