Tumblr: https://dcmarvelorder.tumblr.com/post/163485949859/1952-the-first-half
I started this blog when I was in the middle of reading this year, after this post we will be going over the issues much more in depth, sorry for the long wait everyone.
The biggest new character this year so far has been Garfield Lynns, also known as the fire fly. Interestingly he did not start out as a firebug, but committed crimes using lights. He got the idea when he escaped from prison and Batman ans Robin were led astray by a firefly in the grass. Why they though a criminal who had just broken jail would be smoking when such a thing would be clearly visible I don't know. As the Batman in the story is credited as earth-two I would put this Garfield there too, even though his page says new earth.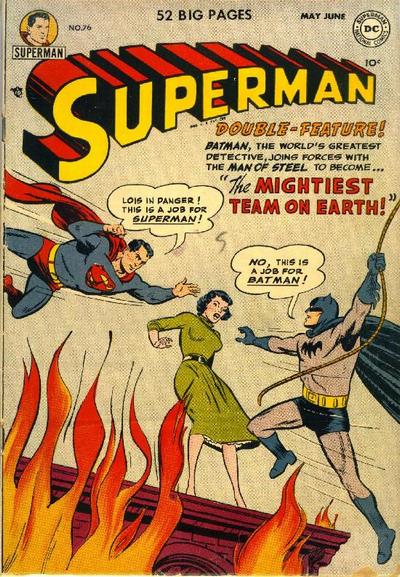 The most important thing this year was not the introduction of a character, team, or world, well, team could be debated. Though they had occasionally appeared in All-Star Comics, Batman and Superman had never interacted. But in the May- June issue Batman and Superman of Earth-one met.  Bruce was to go on a vacation on a yacht, and Clark was sent to report on the maiden voyage. A mess up in reservations made them have the same room. Before they even left dock a fire was started that put Lois in danger. Bruce feigned fatigue and turned off the light 'to turn in' the light of the fire however revealed their identities to each other. They decided to join the ship as Superman and Batman, so as not to make people guess they might be Clark and Bruce. Clark pretended to be sea sick, with Bruce looking after him while they were active as their other selves. To keep this from being too long I'll tell you that Clark asked Bruce to keep Lois out of their hair by acting interested, but still became jealous when Lois pretended to like Batman back.
After they solved the crime and told everyone that Batman and Superman had left Lois expressed doubt that Clark recovered as soon as Superman left. Superman flew Bruce to Gothamfor a night, to dispel any thoughts about the Batman-Bruce connection. And as thanks Bruce pretended to be Superman when Lois and Clark disembarked. They both swore never to tell the other's identity and that was the beginning of the World's Finest